Posted August 15, 2018, BeyondTaos staff
This fall, nine Northern New Mexico communities, and one Taos art district, host annual self-guided tours of the studios and work spaces of artists who are, most of the year, quite private. Visitors have the opportunity to watch the artists at work, ask questions and buy direct from the source. Most of these tours are on the weekends from 9:00 or 10:00am to 5:00pm, but check each website for particulars.
Here's the full schedule with lists of artists for the next three tours – Questa, Taos and Chama. Stand by for more about the later tours – the plans are still forming!
Northern NM 2018 Studio Tours at a Glance
August 18-19
3rd Annual Questa Studio Arts Tour, 10-5:00pm
Labor Day Weekend
12th Annual Chama Valley Studio Tour, September 1-2, 10-5:00pm
Annual TAO (Taos Artist Organization) Studio Tour, September 1-3, 10-5:00pm
September 8-9
20th Annual Rio Costilla Studio Tour, 10-5:00pm
September 22-23
21st Annual High Road Art Tour (first weekend), 10-5:00pm
September 29-30
21st Annual High Road Art Tour (second weekend), 10-5:00pm
September 29
Discover Southside Arts Open Studios on Reed Street and Gusdorf Road in Taos, 1-6:00pm
September 29-30
32nd Annual El Rito Studio Tour, 10-5:00pm
2nd Annual Angel Fire Studio Tour, 9-5:00pm
October 6-8
25th Annual Abiquiu Studio Tour, 10-5:00pm
November 3-4
30th Annual Dixon Studio Tour, 9-5:00pm
3rd Annual Questa Studio Arts Tour
August 18-19, 2018. This is the first of the season's art tours in northern New Mexico. Artists from Questa and the surrounding communities open their studio or gather at hubs to share their talent and offer unique, hand-crafted works for sale. From hand-carved bultos to exquisite jewelry, stunning photography to paintings to pottery and more. Add a hike in the Rio Grande Del Norte National Monument or a drive around the Enchanted Circle, and your day will be unforgettable. Along highway 522, highway 38, and beyond, Questa; FREE.
Visitors will also be able to experience a guided History Trail Walk starting at 10am on Saturday, August 18th at the corner stop light. Local historian Flavio Cisneros will lead this lively discussion of local history on the .6-mile loop. This tour will also take you through the beautiful restored St. Anthony Church. Be sure to drive 10 miles north of Questa to Ute A.I.R. on Sunshine Valley Road. It is site of a new artist residency. Learn more
Barrie Andrews – Printmaking
Nina Anthony – Digital Media
Ruth Archuleta – Quilting
Evelyn Coggings – Refurbished Furniture
Mike Colemen – Photos/Leatherwork
Karen Castillo – Pottery
Diane DeFremery-Mixed Media
Rebecca Dennis-Beaded Jewelry
Jean Frey – Prints/Paintings
Roger Harrington – Paintings & Jewelry
Sandra Harrington – Pottery
Mat Hipster-WoodWorking
Lynnette Haozous- Muralist
Elizabeth Huddle – Embroidered Quilting
Kathryn Hayden-Photography
Betsy Irwin – Painted Gourds
Andy Jaramillo- Burl Bowls
Audrey Kunkel- Jewelry
Clarence La Come – Folk Carving
Lou McCall- Inkwork
Maria Mikhailas-Painting
Mary Miller – Paintings
Kathy Morsell-Pottery
Cynthia RaelVigil- Quilting/Crafts
Mose Rainault – Furniture
Betty Richter-Painting
Mike Ridder – Pottery
Erin Plaster- Screened Printed Furniture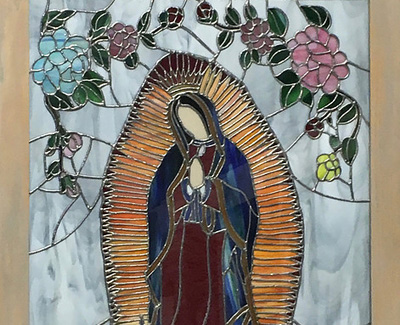 Betsy Peirce – Printmaking
Questa Quilters Guild
Serenity-Iconic Arts
Questa Stained Glass Studio
Martha Shepp – Digital/Mixed Media
William Scott – Cigar Box Guitars
Torre Strong – Leather Work
Delores Tafoya – Carved Paintings
Peggy Trigg – Landscapes/Abstracts
Belinda Trujillo – Quilting
Armando Vigil – Woodworker
12th Annual Chama Valley Studio Tour
September 1-2, 2018. Chama is 67 miles northwest of Taos. The hour-and-a-half drive takes you through gorgeous mountain scenery. Consider staying over for a ride on Cumbres and Toltec Scenic Railroad on Labor Day. The studio tour includes locations along Hwy 64/84 in northern Rio Arriba County, 10-5:00pm. This area has long been known for its community of traditional weavers. Learn more.
Avonna Lee Anderson, Paintings and Prints (stop #12)
State Road 512, house #680
Cathy Cardin, Fiber Art (stop #6)
Mary Cardin, Watercolors (stop #4)
551 Maple Av. Chama, NM
Thomas Cardin Jr, Pen and Ink Drawings (stop #6)
Paula Devereaux, Painting/sculpture and Ceci Devereaux White, Jewelry (stop #9)
54 CR 343A, Chama, NM
Dos Gringos, woodworking and needle work (stop #15)
Private Road 1754
Miguel Duran, Fine Art Photography (stop #6)
600 Terrace Avenue
Alan Feia, La Luz Studio, Kiln fired glass (stop #8)
12 Elk Dr. Chama, NM
Veronica Hennigh, Jewelry (stop #6)
600 Terrace Avenue
Ruben Hernandez, Photography (stop #6)
600 Terrace Avenue
Virginia Marshall, Quilts (stop #14)
267 Shroyer Rd Laguna Vista, NM
Bobbi Mason, Metal Art (stop #6)
600 Terrace Avenue
Margaret Noe, Handmade chain, Silversmithing, Jewelry (stop #6)
600 Terrace Avenue
Manfred Rapp, Oil Painting (stop #3)
499 Pine St, Chama
Diane Walton Reitz, Painting and Drawing (stop #1)
395 Terrace Avenue
Beverly Timm, La Zorra Glassworks, Jewelry, Glass work (stop #10)
42 Rio Chama Estates
Tierra Wools, Traditional Northern New Mexico weavings (stop #16)
91 Main St, Los Ojos, NM
11th Annual TAO Studio Tour
September 2-4, 2017. TAO (Taos Artist Organization) is a non-profit organization formed in 2007. The group's objective is to act as a social connection for artists in the Northern Mexico area, bringing together a wide diversity of talent and mediums, and to continue the tradition of an annual studio tour in the Taos area, the heart of the original artist colony. Member artists working in a variety of mediums open their studios and encourage the public to enjoy the activities planned for Labor Day Weekend. Learn more.
New this year, TAO is hosting a studio tour exhibition at the Encore Gallery of TCA, August 20-September 4. One place, 22 artists! Meet the artists at an opening reception, Thursday, August 23, 4-6:00pm.
Floyd Archuleta
Jeanine Borree
Nancy Diamond
Peggy Griffey
Mari Hawkes
Jeremy G. Landau
Nicki Marx
Carol Doughty
Donna Gorski
Inger Jirby
Ron Larimore
Mercedes Montoya
Bill Baron
Alex Chavez
Marsha Fawns
Cher McMacken
Katherine Bensusen
Lynn FitzGerald
Kathryn Hayden
Live Johnson
Dennis Luftig
Eve Messick
Jan Nelson​
Bill Binger
Robert Cooley
Miriam Foranda
Claire L. Haye
Lydia Johnston
Sylvia Luftig
Scott Messick
John Staple
Gene Van Natta
Teresa Ritter
Don Wallis
Robert Perez, Jr.
Anita Rodriguez
Margaret Tange
Kristeen Waszak
Linda Rauch
Erica Wendel-Oglesby
Melanie Redmond
Debbie Schulze
Inge Jewelry
Find all studio tours on Taos Art Calendar.
Watch for Studio Tours in Taos (and beyond), Part Two and Three, coming to BeyondTaos Blog soon.