By Janet Webb, May 30, 2019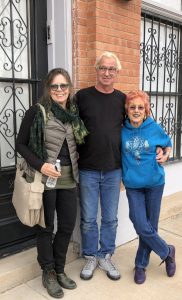 Judy Chicago and I met in the late 60s when we were both living in the realm of a new fine art print shop, Gemini GEL in Los Angeles (it's still going strong today!). She was Judy Gerowitz then and I was right out of art school, working as a fashion illustrator.
By the early 1980s, I was living in Taos with a husband, three kids and a brand-new business, Webb Design Inc. Judy contacted me about helping her with the Birth Project, a massive project that used the talents of 150 needle workers around the country to create images "that celebrate the birth process – from the painful to the mythical." My new company produced all the exhibition signage as well as the Birth Project book that was published by Doubleday.
What I learned about Judy through working with her for three years is that she uses her art to empower women and to change community. She's an activist, a feminist and an educator. That is the side of Judy Chicago I want to introduce to Taos, which is a place that seems to attract women with a cause.
Before you visit the Harwood Museum of Art to see Judy Chicago: the Birth Project from New Mexico Collections (on view from June 2 through November 10, 2019), take a look at Judy's other art projects. Meet Judy Chicago through ten images she has created throughout her six-decade career.
---
MINIMALISM 1965-1970
Chicago experiments with the nature of color, transformation and visual perception. To learn how to spray paint, Judy enrolls in an auto body school, the only woman in a class of 250. She also attends boat-building school to learn how to work in fiberglass. See more of Judy Chicago's minimalist work.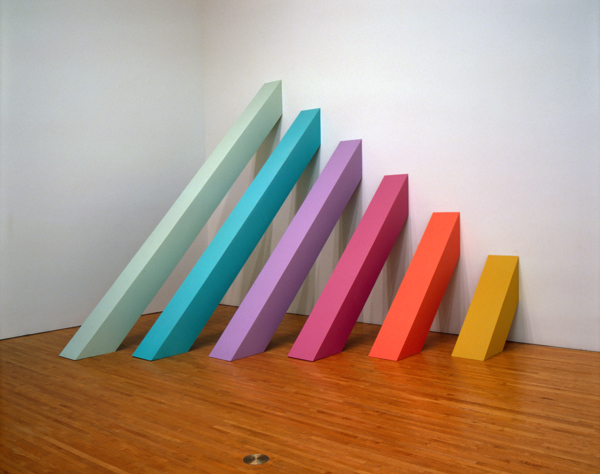 ---
ATMOSPHERES 1967-2019
Chicago has used pyrotechnics at several points since the late 1960s in outdoor performances that seek to feminize the environment. Again, she was the only woman in her pyrotechnics class. See more Atmospheres.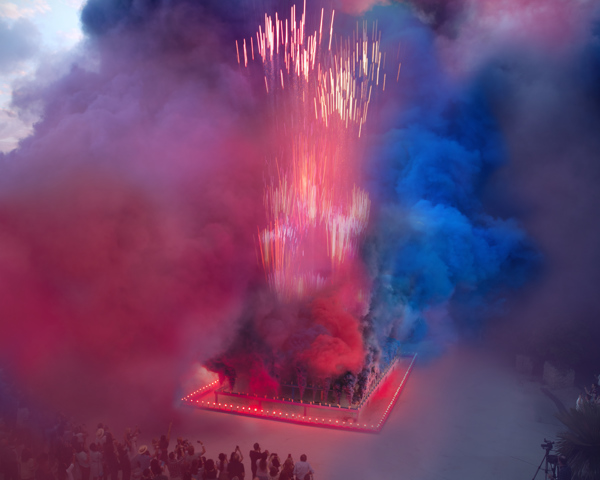 ---
FEMINIST ICONOGRAPHY 1970-1974
Chicago expresses her experiences as a woman and develops the central-core imagery that has become emblematic of her work. During this time, Chicago joins the faculty at Fresno State College to teach a women's-only Feminist Art Program. Chicago moves the program to the California Institute of the Arts (Cal Arts) and begins team teaching with Miriam Schapiro. The 21 women in the program renovate a dilapidated house to create Womanhouse, the first female-centered art installation in contemporary art. She collaborates with art historian Arlene Raven and designer Sheila de Bretteville to open the Feminist Studio Workshop and Woman's Building, a public center for women's culture, in Los Angeles. (45 years later, the Woman's Building receives Historic Cultural Monument designation.) See more of Judy Chicago's feminist iconography.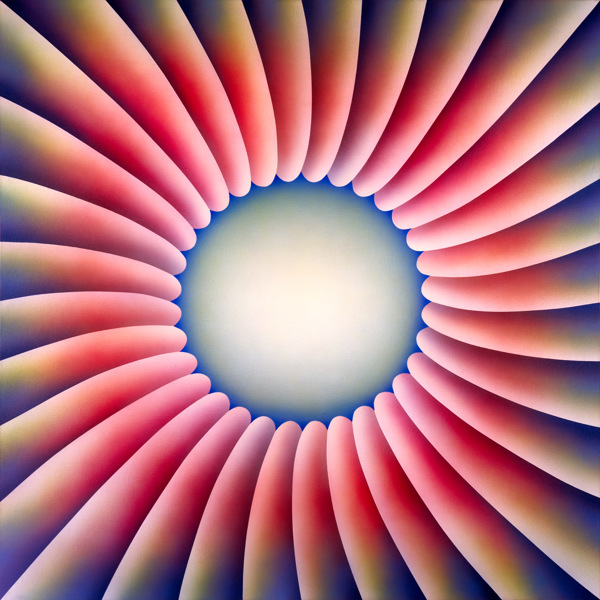 ---
THE DINNER PARTY 1974-1979
Chicago's concept is to introduce the richness of women's heritage into the culture through a monumental work of art, co-created with hundreds of collaborators. Through an unprecedented worldwide grass-roots movement, The Dinner Party has been exhibited in 16 venues in 6 countries on 3 continents to a viewing audience of over one million people. The Dinner Party is now permanently housed in the Elizabeth A. Sackler Center for Feminist Art at the Brooklyn Museum in New York. See more of The Dinner Party.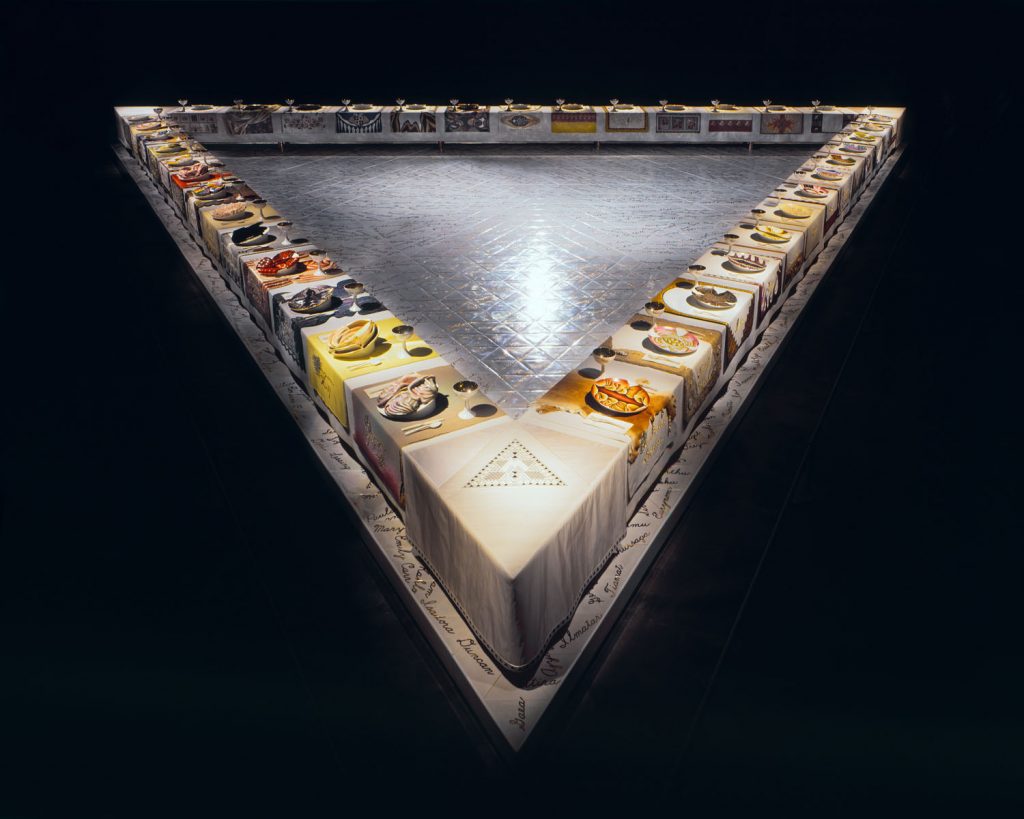 ---
BIRTH PROJECT 1980-1985
Chicago collaborates with more than 150 needle workers to create images that celebrate the birth process – from the painful to the mythical. Now showing at the Harwood Museum!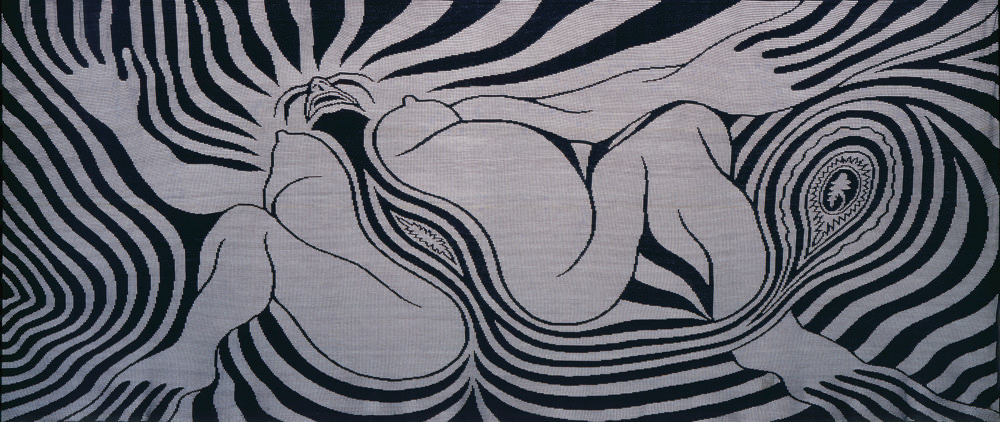 ---
POWERPLAY 1982-1987
The series examines the gender construct of masculinity in both modest and monumental drawings, paintings, weavings, cast paper pieces and bronzes. See more Powerplay artwork.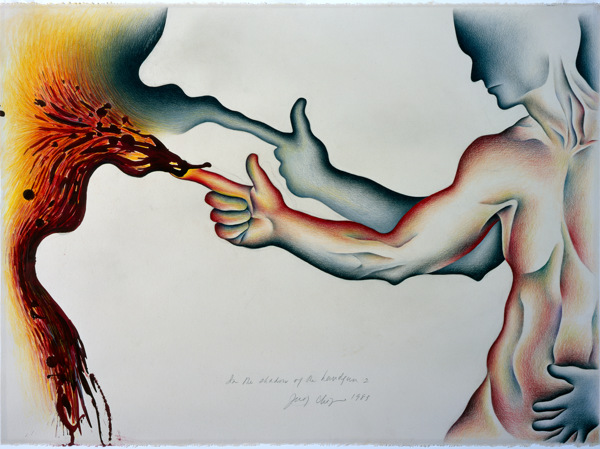 ---
THE HOLOCAUST PROJECT 1985-1993
Chicago's interest in the ways in which being Jewish have shaped her art and her life drew her toward this dark subject. See more of the Holocaust Project.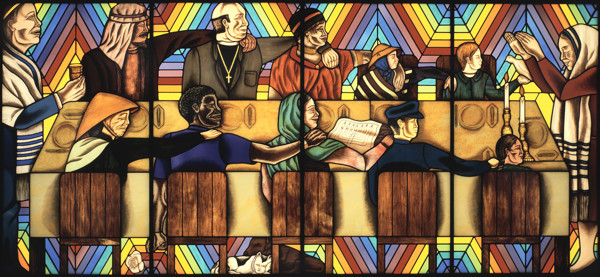 ---
RESOLUTIONS: A STITCH IN TIME 1994-2000
A postmodern subversion of the traditions of both needlework and proverbs, made with the intention of addressing the problem of a widespread breakdown of social values. See more Resolutions.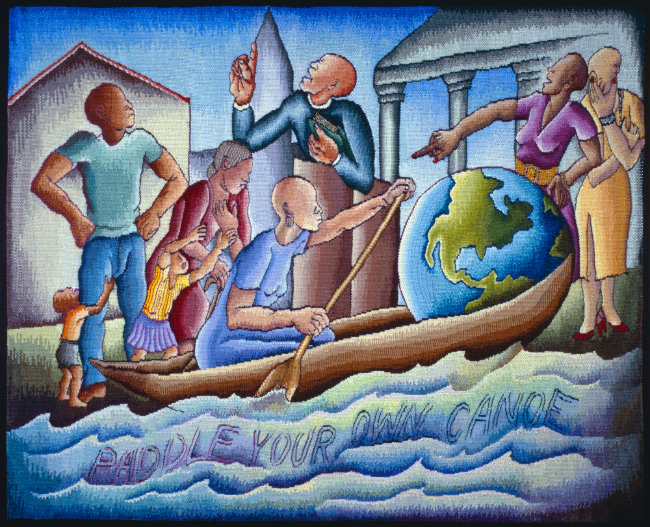 ---
KITTY CITY 1999-2003
Chicago, an ardent cat lover, undertakes a study of the history of the feline species, using her and Donald's family of cats as her models. Judy donates some of the profits from this project to feline adoption organizations around the country. See more Kitty City artwork.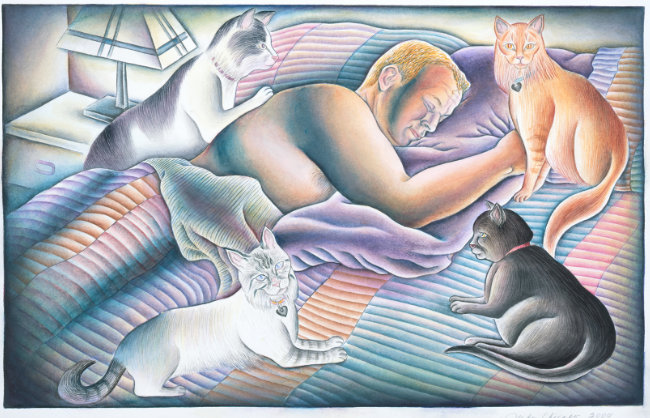 ---
THE END 2012-2018
Chicago considers her own mortality in painted porcelain, glass and bronze. This body of work, The End: A Meditation on Death and Extinction, premieres at the National Museum of Women in the Arts (NMWA) in Washington DC in September. 2019 The museum describes the work as "nearly 40 works of painted porcelain and glass, as well as two large bronze sculptures . . . Through this series, the artist reflects on her own mortality and appeals for compassion and justice for all earthly creatures affected by human greed."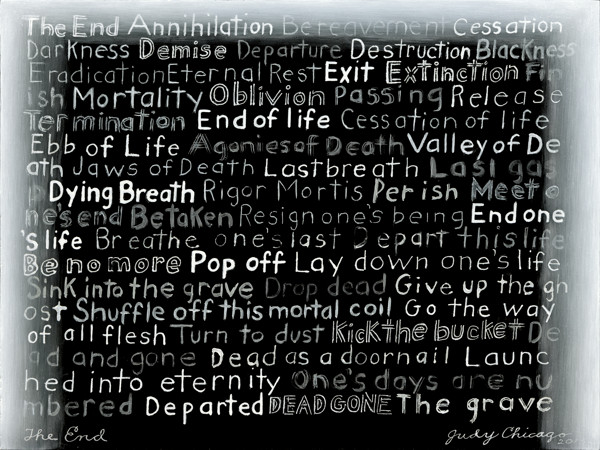 ---
Learn more about Judy Chicago. Read a few of her books.
Through the Flower: My Struggle as a Woman Artist, 1975
The Dinner Party: A Symbol of Our Heritage, 1979
Embroidering Our Heritage: The Dinner Party Needlework, 1980
Birth Project, 1985
Holocaust Project: From Darkness into Light, 1993
The Dinner Party, 1996
Beyond the Flower: The Autobiography of a Feminist Artist, 1996
Women and Art: Contested Territory, 1999, with Edward Lucie-Smith
Fragments from the Delta of Venus, 2004
Kitty City: A Feline Book of Hours, 2005
The Dinner Party from Creation to Preservation, 2007
Face to Face: Frida Kahlo, 2010, with Frances Borzello
Women, Art and Society: A Tribute to Virginia Woolf, 2012
Institutional Time: A Critique of Studio Art Education, 2014