October 9, 2018 – BeyondTaos invited Gregory Farah of FarahNHeight Fine Art to write a few blog posts introducing early career Native New Mexico artists creating art today. This is the second installment (read Part I).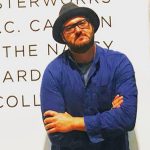 Gregory speaks of his interest in Native American art: "I don't think I would be an art dealer in any genre of art other than Contemporary Native American art. To me it's the most American of art. It's based on the symbiotic relationship of the human experience and the environment. I use the metaphor of American Blues music to explain contemporary Native art. The history of the Blues comes from a tragic history of colonialism, enslaving people against their will, force-feeding Christianity and puritanical beliefs. Individuals who suffered so much tragedy and injustice were able to hold on to some of their tribal ancestry and rhythms, absorb and adapt and create an artistic and cultural juggernaut that is the personification of the American Experience.  I look at the Contemporary Native American art movement in a similar fashion. It's the Electric Blues/Rock N Roll/Hip Hop of the indigenous people of these lands.  There is something ancient and sacred, there is something not to be trifled with that contains relevant knowledge and power within this artistic movement."
This edition features five artists: Gary Kniffin II (Dine, San Carlos Apache and Shoshone); Maggie Carson (Choctaw Nation of Oklahoma); Elton Manygoats (Navajo); DeAnna Autumn Leaf Suazo (Taos Pueblo and Navajo); and Eye V James Concha (Taos Pueblo).
Gary Kniffin II
Gary Kniffin II is an artist of Dine, San Carlos Apache and Shoshone decent. He grew up on Ramah Navajo Reservation which is located 50 miles south of Gallup New Mexico. He attended Gallup High School where classmates introduced him graffiti, comic books, and Chicano art. From 1999 to 2001, Gary attended Institute of American Indian Arts where he studied painting under Norman Akers. He served in the US Army from 2004 to 2010 after which he apprenticed and worked as a tattoo artist in Arizona and California. Gary draws from all these experiences when creating his work in acrylic and mixed media. His subject matter is broad but consistently has Native American themes with modern pop sensibilities.
Gary Kniffin II lives and works in Espanola.
Maggie Carson
Maggie Carson is an interdisciplinary artist with roots in the Choctaw Nation of Oklahoma working with traditional media using unconventional processes. Her work encompasses trash, kitsch and fine art, and employs drawing, painting, textile, sculpture, assemblage, and collage.
Carson was born and raised in northern New Mexico and spent her formative years in Taos. She received her Associate of Arts from Santa Fe Community College in 2016, and her Bachelor of Arts from Santa Fe University of Art and Design in 2017. In 2015, Carson's work was exhibited at SITE Santa Fe in the SITE Scholars Alumni Exhibition. Carson is currently working in collaboration with her twin sister, Elizabeth, on an installation project which is scheduled to be shown by FaraHNHeight Fine Art in 2019.
Maggie Carson lives and works in Santa Fe.
Elton Manygoats
Elton Manygoats was born in the northern part of Arizona on the Navajo Nation. He grew up herding sheep and goats and attended Tuba City Boarding School and Dine Community College where he studied art and began winning art competitions. Later he attended Haskell Indian Nation University in Kansas where he earned an A.A. degree. After college, Elton worked in the construction and iron-working industries before turning to the junkyard for the elements of his art. "There I found my style of art and found my new way of seeing Native art in my own perspective. I created with the old junk I found at junkyards and found my own style of Native art."
Elton Manygoats lives and works in Gallup.
DeAnna Autumn Leaf Suazo
DeAnna Autumn Leaf Suazo was born in raised in Taos. She is of Taos Pueblo and Navajo descent. Both of her parents are artists. DeAnna says, "My work is influenced by my cultural heritage. I incorporate different styles of art to create my own unique style. I infuse traditional ledger art with contemporary pueblo and southwestern indigenous figures. Japanese Anime has had a huge influence on my art. Each piece I work on has to be different and unique from any in the past."
DeAnna Autumn Leaf Suazo lives and works in Santa Fe.
Eye V James Concha
Eye V James Concha was born and raised at Taos Pueblo. He is a self-taught artist working mostly with watercolors and Sharpie pens. He says, "I am both concave and convex, artistic from the depths of my conscience, caring like giving all my love and my last dollar to those who enter my world, dual personality in two minds: Son, brother, uncle, kiva boy, patient, quiet in a strong deep-thinking sense, talented naturally…"
Eye V James Concha lives and works in Taos Pueblo.
About Gregory Farah
An introduction by Janet Webb
Gregory Freeman Farah was born in Albuquerque in December 1980 and raised in Los Ranchos de Albuquerque where he lived until 1999.
Gregory's mother's side of the family raised cattle in Lincoln County, New Mexico since the 1950s. His father, after attending AUB (American University of Beirut), attended Columbia in New York City and that is where the Farah from East Jerusalem met the Scottish Irish woman from Chicago and together they began their journey to New Mexico.
Although Gregory was born and raised in New Mexico, he has had a life of moving around. He attended college in Portland, Oregon and New Orleans, where he received a BFA in Middle Eastern History and minor in art from Tulane. After attending academic programs in Southeast Asia and South America, he settled in El Paso, Texas long enough to receive an MBA from the University of Texas.
It was the R.C. Gorman (1931-2005) Estate that brought Gregory to Taos in 2010. He ran the Navajo Gallery on Ledoux Street for a few years. In 2013, Gregory helped the Estate open the new Navajo Gallery in Santa Fe. "I credit my time with the Estate with giving me a foundation and understanding of the contemporary Native American art movement, introducing me to RC and his contemporaries, many of the legends who laid down the groundwork for the movement. I really wanted to promote up-and-coming younger artists; find the next T.C Cannons, Oscar Howes and Helen Hardens."
And so, in 2016 he opened FarahNHeight Fine Art in Taos.
FaraHNHeight went full nomad in early 2018 when its original gallery building on Paseo del Pueblo Norte was sold. Now FaraHNHeight sells online, collaborates with existing business, curates art programs and organizes pop-up exhibitions in in Taos (Old Martina's Hall, Sagebrush Inn, Taos Ale House and Taos Ski Valley), in Santa Fe (Noisy Water Wine Bar on 219 W San Francisco St, and auxiliary showroom at 618 Paseo de Peralta), and in Albuquerque (Gobble This Restaurant in Old Town 308 San Felipe St NW, and Arogya Center 2500 Central Ave SW).
Learn more about Gregory Farah and his stable of contemporary Native American artists on Facebook Instagram and his website. And please sign up for his mailing list.
---
See other BeyondTaos posts about contemporary native artists: Contemporary Native Painters, April 2019; Contemporary Native Artists part one, July 2018; and Taos Pueblo Artists on Exhibit, March 2018.